Flush Casement Windows & A Stable Door In Ledbury
Flush Casement Windows & A Stable Door In Ledbury
When renovating a home in a beautiful location like Ledbury, timber can be a popular choice of frame for flush casement windows. The authentic, traditional appearance offered by the wooden profile is a timeless style across the United Kingdom. However, certain types of softwood can have drawbacks, as they often lack the durability and thermal efficiency necessary to make life at home comfortable.
Such was the case for this client, who had started to notice issues with cold draughts after his wooden flush casement windows were showing signs of wear. Naturally this would be not only uncomfortable, making the space much colder during the winter, but it would also prevent the installations from keeping heat inside the property, causing energy costs to rise for the building. As a result, it was time for an upgrade, and we were more than happy to make it a reality.
If your home in Ledbury or across the West Midlands is in need of market leading double glazing refurbishment, we're here to help. Enter your specifications and details into our online quoting engine to get a free quote for your installation!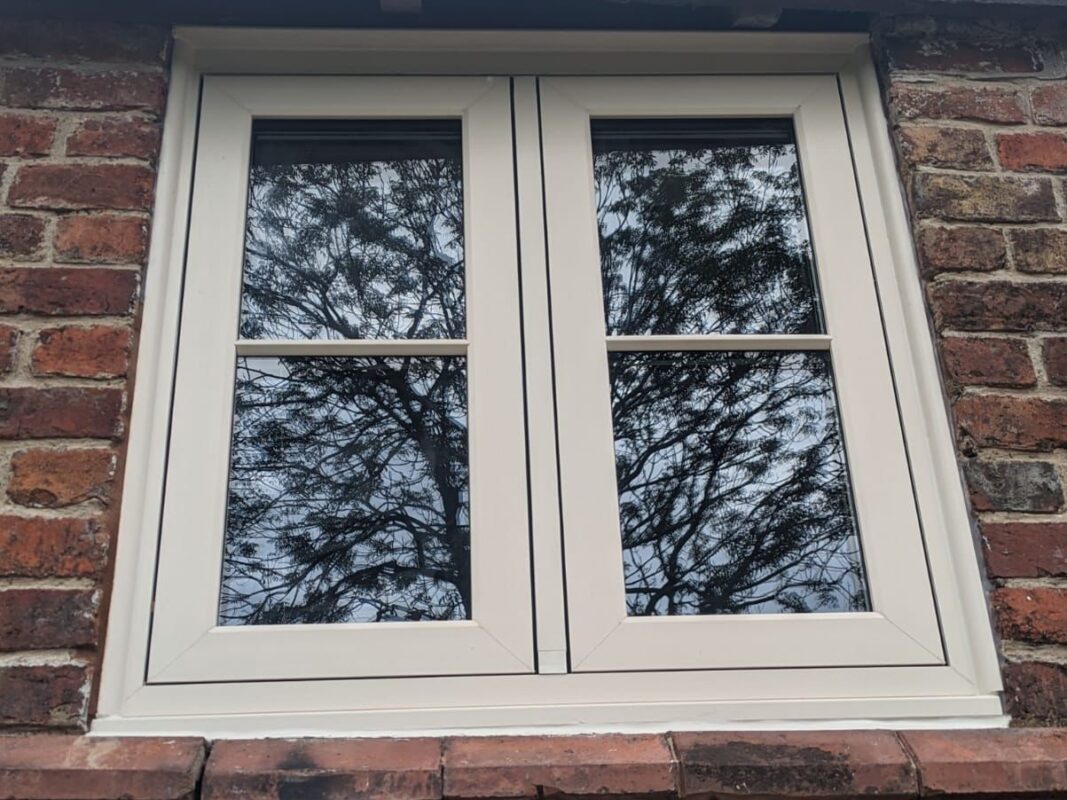 Timber Alternatives
Whilst timber is a wonderful frame for providing a natural feel to a property, it is remarkably high maintenance as it needs to be routinely protected from wood rot and wear. An ideal alternative was uPVC, as not only is it easily customisable but it also requires minimal aftercare to keep in great shape. The client was uncertain at first, but after we showed the various customisation options made possible with Kommerling flush sash windows, they felt much more confident that we could improve the practical benefits for their Ledbury home without changing the appearance.
Unlike standard casement windows, flush casement windows can take the aesthetic of a property's exterior to a whole new level. These models sit completely level with their frame, creating a slick, smooth appearance that stands out in all the right ways. In addition, the precise design of these flush casement windows ensures that they are easy to open without the risk of snags or cracks occurring over time.
The fine, slimline frames of the flush casement windows manufactured by Kommerling are designed with multichambered profiles, which assists in the structural integrity and thermal efficiency of the installation. At the client's request, we used a dual colour design to use a cream finish on the outside and a white finish on the inside of each frame, which looked fantastic.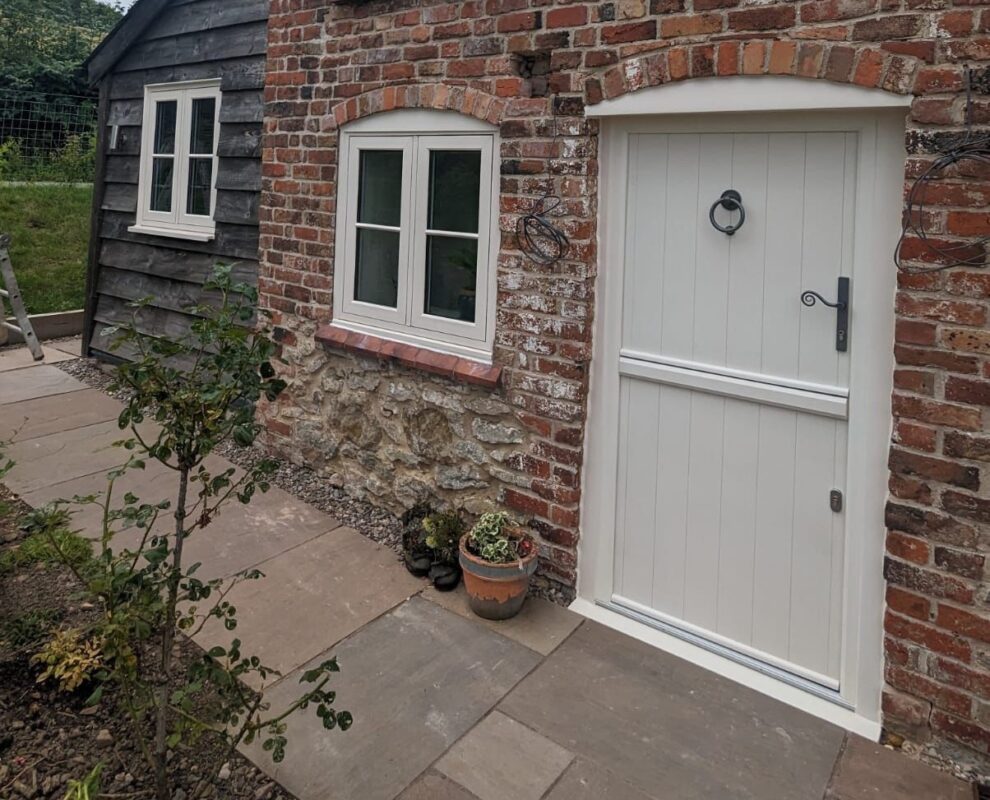 Stable Door
As part of the refurbishments, the client also needed a stable front door to be refurbished alongside his new flush casement windows. This style of door earns its name as the top part can be opened separately from the bottom half, allowing for light and fresh air to enter the property whilst restricting access – great for those with pets or small children! We installed this new door with an elegant monkey tail handle and matching accessories to preserve the traditional appearance of the house's facade.
The new stable door was set with a similar cream finish to match the flush casement windows, resulting in a wonderfully consistent look that suited the exterior brickwork perfectly. Once the trimming was finished, we gave each window a final, comprehensive clean before confirming that the client was satisfied with his new windows and front door. Thanks to the premium materials, fast installation and brilliant service, he was pleased to recommend us!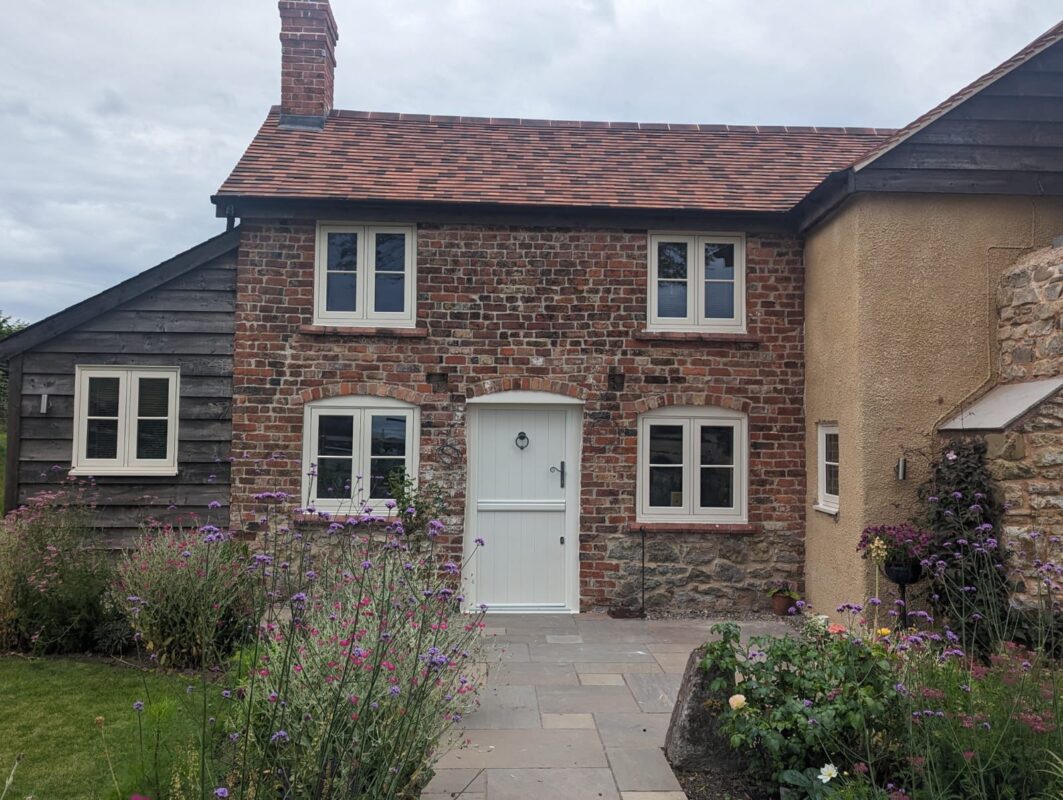 uPVC Home Improvement Prices In Ledbury
Our flush sash windows and stable door models are perfect for properties not just in Ledbury, but throughout the surrounding regions. Get a free quote started in minutes by using our online quoting engine and we'll get back to you as soon as we can. Alternatively, you can message us directly though our online contact form or give us a call on 01905 928188. If you want to read this client's review yourself, take a look on our Google Business Profile!