Composite Door In Fernhill Heath
Composite Door In Fernhill Heath
We recently had the pleasure of servicing a beautiful home in Fernhill Heath with a brand new composite door. Composite doors are timeless favourites for homeowners looking to make the most of their home's facade as they offer many practical benefits, such as strength and thermal efficiency, whilst also offering a unique appearance. These home improvements are generally low maintenance and will stay in great condition for years to come without significant aftercare.
We pride ourselves on using premium grade materials to ensure the final product can't be beaten by the competition in terms of quality and excellence. Our composite doors are designed with security, style and versatility in mind, so you can find the perfect installation for any property, whether it's in Fernhill Heath or one of the surrounding areas. Find out more about how to enhance your home with a new composite door by messaging our experts through our online contact form!
Stunning Composite Door Style
Our client in Fernhill Heath was enthusiastic about finding the perfect product to suit the aesthetic of her building. All of our double glazing is bespoke and comes in a broad selection of colours, styles and configurations, enabling them to explore a range of options until they found the perfect combination to match their property's exterior brickwork. They settled on the Cheltenham door from our Diamond Range in a dark green finish.
This is one of our more popular options for front door installations, as the special glazing options allow for glass panels that obscure vision to maintain privacy inside the property whilst still allowing light to flow through the space. We also offer a broad array of beautiful accessories including handles, knockers and letterboxes to complete the look of the door.
Our composite doors are made to measure and will be precisely checked to ensure they fit the dimensions required for the installation. This is naturally one of the most important parts of the project, which is why we confirmed the space and measurements with the client. When properly fitted, these doors will be as secure and energy efficient as possible, and they'll also be weatherproof to prevent cold draughts or water ingress from causing damage to the inside space or internal components.
Diamond Range Doors
Our Diamond Range of composite doors are designed to offer a high level of thermal efficiency thanks to an insulated foam core. This will help the client to stay warmer for longer throughout the colder months, reducing energy consumption and helping the interior to remain as cosy as possible. With high security locking and reinforced uPVC framing, this composite door will offer unmatched security and safety for the property.
We use glass reinforced plastic (GRP) skins to create authentic woodgrain foils for our composite doors as these are highly resistant to wear and peeling. As a result, the client won't have to worry about constantly repairing or refurbishing the model, meaning they can relax and enjoy time at home. If you want to learn all about our Diamond Range and whether or not it's the right choice for you, give our team a call – we'll be more than happy to help you!
We carried out the installation quickly and efficiently, making sure to respect the client's space and leave no mess behind. Once the project was completed, we showed them the details of their new composite door to make sure they were completely happy with the end result, and we're pleased to say it's another happy customer! Read the review on our Google Business Profile to see for yourself.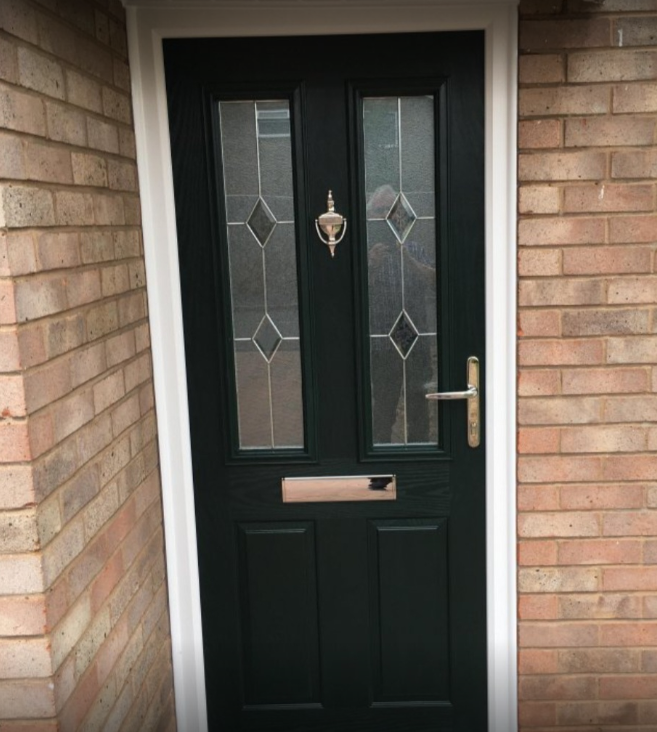 Composite Door Prices Fernhill Heath
We supply and install premium grade composite doors across Fernhill Heath and the surrounding regions. Use our online quoting engine to get a free quote started in minutes, or you can use our online contact form to message us directly. If you have any questions for our team, give us a call on 01905 928188 and we answer any enquiries you may have. Choose Worcester Glazing for your next double glazing installation today!
Are you a tradesperson working in Fernhill Heath or across Worcestershire? Visit our sister site, Superior Trade Frames, to find out how you can offer our world class composite doors as part of your installation business.