Front Door Repair In Worcester
Front Door Repair In Worcester
We recently oversaw the repair of a unique wooden front door in Worcester. After this customer was forced to smash through the glass panel in order to access their home, we were glad to be able to help. As part of our services, we endeavour not only to install premium double glazed windows and doors across Worcestershire and the surrounding areas but also to offer fast, reliable repairs which will leave your favourite features as good as new.
A front door is one of the most significant parts of a home's visual appearance, as it's the first thing that guests will see when they arrive at the property. As such, it makes for a great opportunity to leave a memorable first impression with a bold finish, smooth functionality and especially bespoke features such as decorative glass. You can create a captivating atmosphere at the entranceway to your Worcester property with a stunning home improvement such as this.
Interested in getting repairs sorted for your windows and doors? Tempted by the prospect of a beautiful timber front door of your own? Start your free quote by filling out our online quoting engine, or you can get in touch with our expert installers either through our contact form or by calling us on 01905 928188!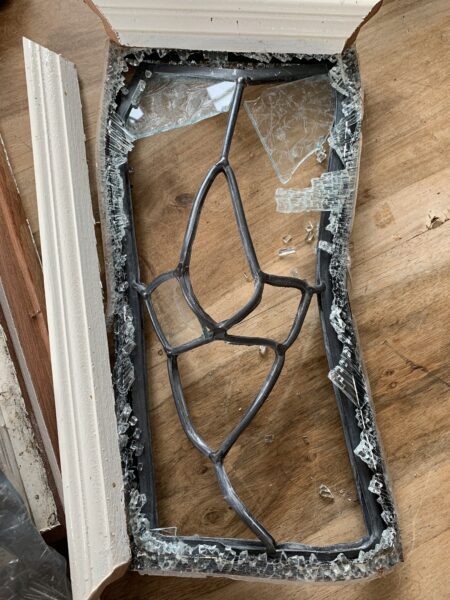 Decorative Glass Panel
When the client found themselves locked out of their home and without keys, they had no choice but to smash through the decorative glazing that had been embedded in their timber front door. The leaded light window had eventually given way, twisting out of shape in the process, but even damaged, the intricate design of the original model could still be seen.
This glass window had been a bespoke design, so would need to be replicated and replaced with a new feature which was made to measure. Fortunately, our resourceful experts were on the case, taking no time at all to assess the impact and measure up the threshold. The client was glad to hear that we could replace their decorated panel without needing to carry out any repairs on the timber door itself.
It was vitally important to get the measurements just right when taking the dimensions of the gap in the timber door, which is why we strive for pinpoint precision in everything we do. An imperfect fit could have resulted in small gaps and cracks in the frame, reducing energy efficiency and compromising the security of the door. We triple checked the width and height of the space before we began crafting the replacement decorative glass.
Fast Installation
Here at Worcester Glazing, we take great pride in the thermal efficiency of our double glazing. Even for something as simple as a small window like this, a second panel can go a long way to reducing the heat loss through the front door. This will ensure the homeowner is able to make the most of their central heating over the cold winter months, preserving the warmth of their interior space and helping to keep energy bills low.
Once we'd prepared the new decorative glass for installation, our team were on the case. We arrived on site and completed the front door repair quickly and effectively, taking the time to speak with the client and ensure that the final product met their expectations. With everything signed off and everyone happy, we cleared up after ourselves and moved on to the next project!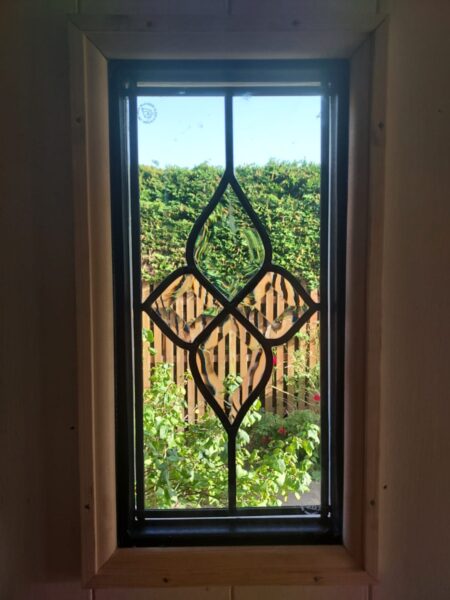 Front Door Repair Prices Worcester
The client was very kind to follow up with a fantastic review on our Google Business Profile highlighting their satisfaction with our service. You can read this, amongst our other outstanding reviews, by clicking here!
Looking to get some repairs done for your front door, or for any of your double glazed features? Our friendly team are here to help with cutting edge home improvement refurbishments. Get in touch with us by filling out our online contact form, or give us a call on 01905 928188.